Ilhan Omar flirts with 9/11 conspiracy theories, lies about CAIR'sHamas roots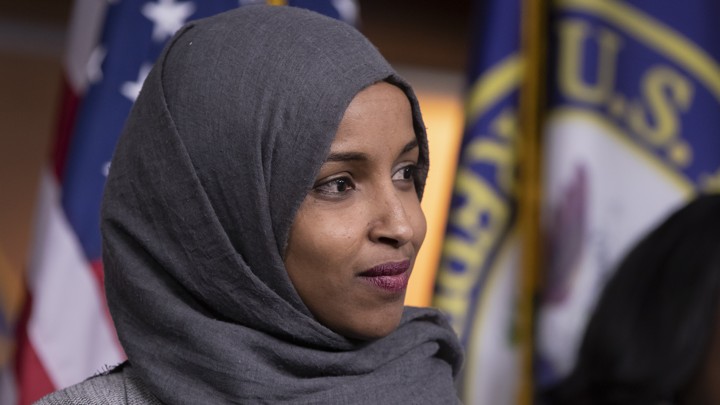 Video has surfaced from Minnesota Democrat Rep. Ilhan Omar's speech at a private Council on American Islamic Relations (CAIR) gathering that took place in late March, revealing that she appears to be entertaining deeply disturbing September 11 conspiracy theories.
"Here's the truth: Far too long we have lived with the discomfort of being a second-class citizen. And frankly, I'm tired of it, and every single Muslim in this country should be tired of it," Omar started.
"CAIR was founded after 9/11, because they recognize that some people did something, and then all of us were starting to lose access to our civil liberties," she continued.
Omar appears to be entertaining a conspiracy theory when she says that "some people did something" and then goes on to claim that Muslims were stripped of their civil rights thereafter. Her rhetoric echoes a popular 9/11 conspiracy theory circulated among only the most toxic political fringes in the United States. However, her notion remains quite commonplace in the Middle East. This conspiracy theory involves the idea that 9/11 was a false flag operation that allowed the Bush administration to invade Muslim lands overseas such as Afghanistan and Iraq. A
Pew survey
taken a decade after the attacks found that this conspiracy has become a mainstream idea in the Islamic world. Pew found:
Nearly a decade after September 11, 2001, skepticism about the events of that day persists among Muslim publics. When asked whether they think groups of Arabs carried out the 9/11 attacks on the U.S., most Muslims in the nations surveyed say they do not believe this.
Unfortunately, 9/11 conspiracy theories continue to be
very mainstream
in the international Muslim community.
Additionally, in claiming that CAIR was founded after 9/11, Rep. Omar misled her audience about the radical group's true origins.
CAIR was actually
founded
in 1994 by Muslim Brotherhood operatives
dedicated
to the advancement of the Hamas terrorist organization that rules the Gaza Strip. Since then, many CAIR officials have over time (one as recently as June 2018) publicly expressed support for the jihadi group.
And in the post-9/11 environment, CAIR
continued
its Hamas-funding mission.
Kyle Shideler, an analyst at the Middle East Forum,
wrote
in documenting CAIR's post-9/11 work:
In 2001, in the immediate aftermath of the 9/11 attacks, CAIR's website featured a donation link to "Donate to the NY/DC Emergency Relief Fund". The hyperlink led would-be donors directly to the Holy Land Foundation, the now convicted Hamas fundraising organization.
And if entertaining 9/11 conspiracy theories and falsifying CAIR's history wasn't bad enough, here's a reminder that Omar was featured at the event alongside Hassan Shibly, a CAIR official who is acting as the pro bono attorney for "ISIS bride" Hoda Muthana.