France arresting Muslim women for wearing full-body swimwear. Why France people are so angry ?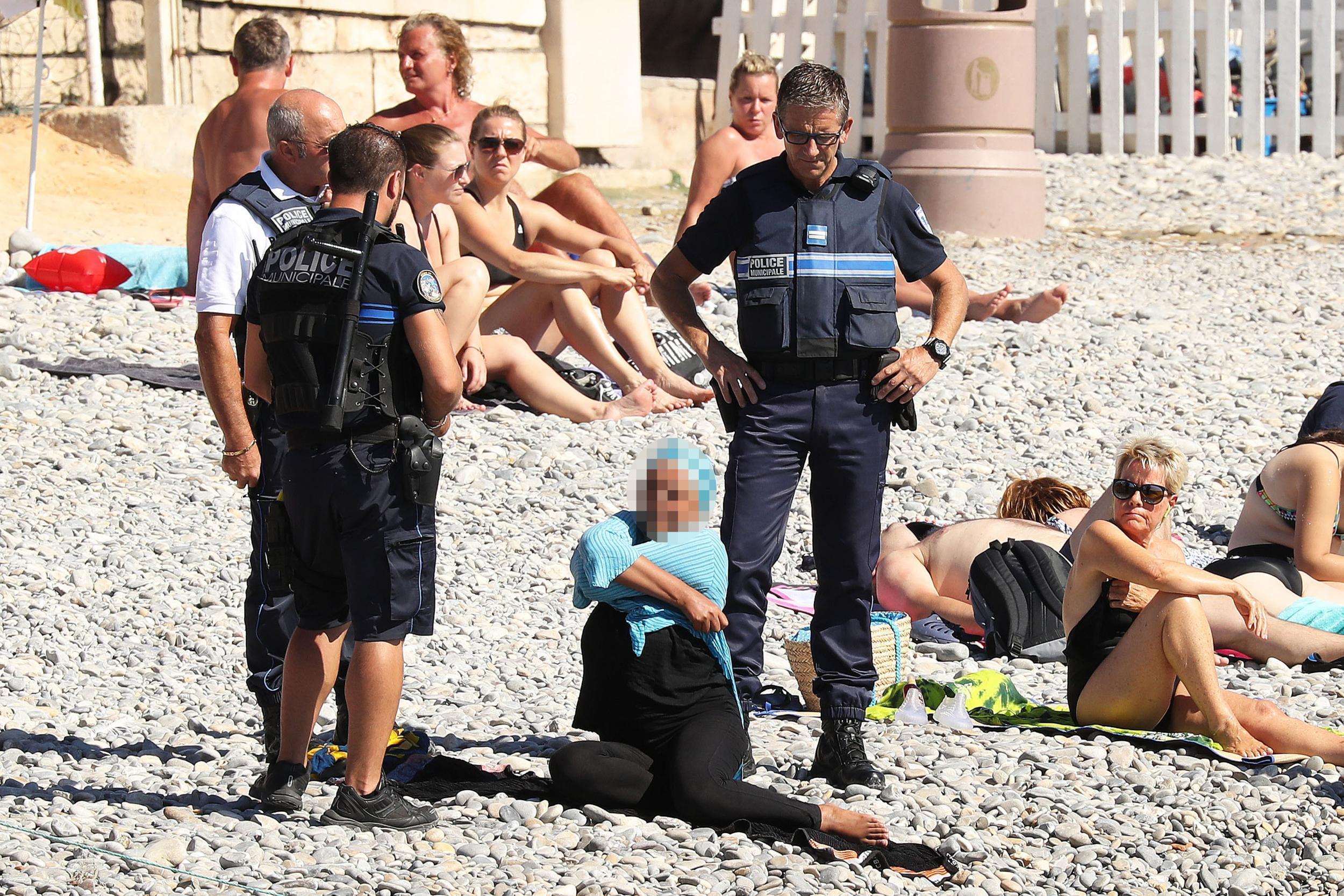 What started as a temporary rule brought in by a single resort in France has spread along the country's world-famous Riviera and beyond to become a lightning rod for a multitude of divisive issues.
imposition of local by-laws on swimwear may seem minor but the "burkini bans" have tapped into division over immigration, sexism, religion and extremism as the country continues to reel from a series of deadly terror attacks by
Isis
supporters.
The debate is seeing France's constitutional secularism pitted against freedom of religion, with emotions running high on both sides.
Proponents argue the move preserves "security and secularism", while critics have condemned it as a sexist attack on human rights and a valuable recruiting tool for Isis and other jihadist groups propagating the idea of a war on Muslims in the West.
The second commune to announce a burkini ban, Villeneuve-Loubet, was not so direct with allusions to terror and extremism.
The
Its rule stipulates that only clothing that "is respectful to morality and secular principles, and in compliance with hygiene and safety rules" is allowed.
Mayor Lionnel Luca also cited unspecified "hygiene reasons" for banning full-body swimwear.
A tribunal in Nice that upheld the ban in Villeneuve-Loubet on Monday ruled that it was "necessary, appropriate and proportionate" to prevent public disorder.
None of the orders have directly mentioned burkinis – an all-encompassing term for modest swimwear that covers the body and hair – and some people have questioned whether police would enforce the ban for wetsuits, nuns' habits and other garments.
What's happened?
Dozens of women have been fined so far for wearing clothing deemed violate the various bans, including in Cannes and Nice.
Some have been arrested, while others have been give verbal or written warnings, and many fined around €40 (£35) each.
How widespread is it?
Authorities in at least 15 towns and cities have so far brought in bans, with the most recent being Cagnes-sur-Mer in Provence.
It announced its degree on Tuesday evening, following several nearby areas.
Many more are said to be considering drawing up similar laws, although a wave of new prohibitions is considered less likely as the summer draws to a close.
But the news of burkini bans has spread around the world, gaining support from right-wing politicians.
Germany is separately considering a nationwide ban on full-face veils, which is already enforced in Belgium.
What are people saying about it?
Right-wing politicians have praised the ban, which comes as France continues its nationwide prohibition on full-face veils in public.
Marine Le Pen, leader of the far-right Front National, claimed the "soul of France is in question", writing in a blog: "France does not lock away a woman's body, France does not hide half of its population under the fallacious and hateful pretext that the other half fears it will be tempted."
But critics have compared the enforcement of the ban to repression in Saudi Arabia and Iran, arguing that ordering women what to wear is a violation of human rights in any context
Some have condemned attempted justifications by local authorities as mere "excuses" for sexist and Islamophobic discrimination.
The bans are widely perceived to be a response to increased tensions and public fears following the
Nice attack
, when an Isis supporter mowed down 86 people celebrating Bastille Day on 14 July, and the murder of a Catholic priest by Isis supporters.
Some rights groups have said the new laws amount to the "collective punishment" of Muslims following the terror attacks and amid friction over immigration and the refugee crisis.
France's Human Rights League said the burkini bans are "serious and illegal attack on numerous fundamental rights" and an abuse of France's secular principles