Starbucks Kicked Out Police Officers Because Customers 'Did Not Feel Safe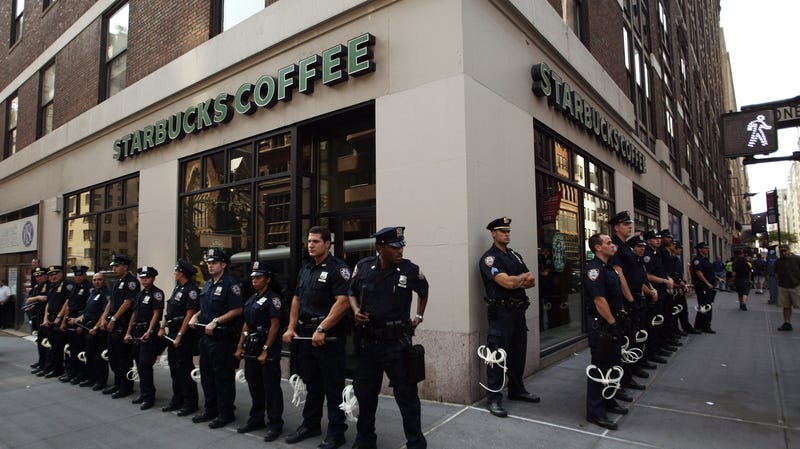 We live in a time where the heroes are treated as the villains and the villains are treated as the heroes and many think it is normal.
That is what happened to police officers in
Tempe, Arizona
when they were asked to leave a
Starbucks
because customers complained.
The customers informed Starbucks management that they did not "feel safe" with the police officers in the establishment,
Fox News reported
.
Five officers were drinking coffee at the Starbucks location prior to their shift beginning when a barista asked them to move out of the complaining customer's line of sight or else leave, the Tempe Officers Association wrote in a series of Twitter messages.
Rob Ferraro, president of the police union, told FOX 10 of Phoenix that such treatment of
police officers
seems to be happening more often these days.
"It's become accepted to not trust or to see police and think that we're not here to serve you, and again, it goes back to — we take great pride of the level of customer service we provide to citizens, he said.
"And to be looked at as feeling unsafe when you have law enforcement around you is somewhat perplexing to me,"
he said
.
Don't appreciate @Starbucks asking our #Tempe cops to leave your establishment on the #4thofjuly2019. Several of those cops are #veterans who fought for this country! #ZeroRespect," the union said.
"A statement from the TOA on The July 4th incident and Starbucks' treatment of police officers: Yesterday, on Independence Day, six Tempe police officers stopped by the Starbucks at Scottsdale Road and McKellips for coffee.
"The officers paid for their drinks and stood together having a cup of coffee before their long 4th of July shift.
"They were approached by a barista, who knew one of the officers by name, because he is a regular at that location. The barista said that a customer "did not feel safe" because of the police presence.
"The barista asked the officers to move out of the customer's line of sight or to leave. Disappointed, the officers did in fact leave.Share this Article with your Friends and Family.