Clinton Pens Fake JFK Letter To Mock Trump, Falls On Her Face Spectacularly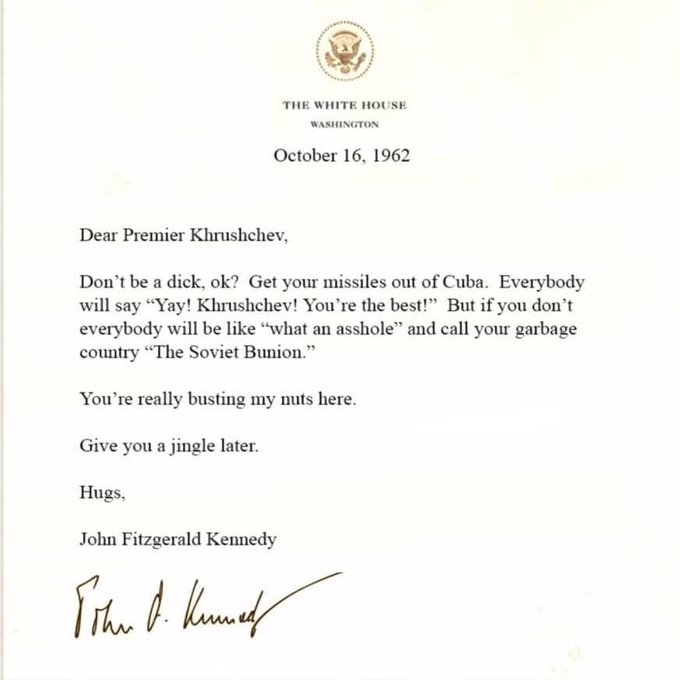 America's most famous runner up, former Democrat presidential candidate in 2016, Hillary Clinton, is at it again.
Her tantrum, which has only gotten bigger since Nov. 6, 2016, has hit new heights with a tweet on Sunday mocking President Donald Trump.
In it she pretended to find a letter in the archives, presumably the ones she has not deleted, from President John F. Kennedy to Russia.
— Hillary Clinton (@HillaryClinton) October 20, 2019
The letter was set on the scene of the Cuban missile crisis and Kennedy's mock letter to Khrushchev is a parody of President Trump's letter to Turkish leader Erdogan.
Dear Premier Khrushchev, Don't be a d—, ok?" the mocke letter to the former head of the Soviet Union began.
"You're really busting my nuts here," the letter ended. "Give you a jingle later. Hugs, John Fitzgerald Kennedy."
The letter was meant to mock President Trump and his letter to Erdogan but it backfired spectacularly on Clinton.
I do not get it anymore. I give you every benefit of every doubt. I have defended you to others. But the time has come for the temper tantrum to end. Is this what you want to be remembered for? The one time a woman loses a presidential election and the tantrum never ends.

— Carmine Sabia (@CarmineSabia) October 20, 2019
— Mindy Robinson 🇺🇸 (@iheartmindy) October 20, 2019
Email archives?

— Saladino for Congress (@JoeySalads) October 20, 2019
Run out of BleachBit?

— Poso Delecto 🇺🇸 (@JackPosobiec) October 20, 2019
Why am I not getting this joke?

— David Weissman (@davidmweissman) October 20, 2019
Ironically, JFK was the last good Democrat.

— Timbob Ditty (@DittyTimbob) October 20, 2019
You'll never be president. :)

— The🐰BOO (@PolitiBunny) October 20, 2019