Fox News Poll Shows Majority Of Americans Want Trump Impeached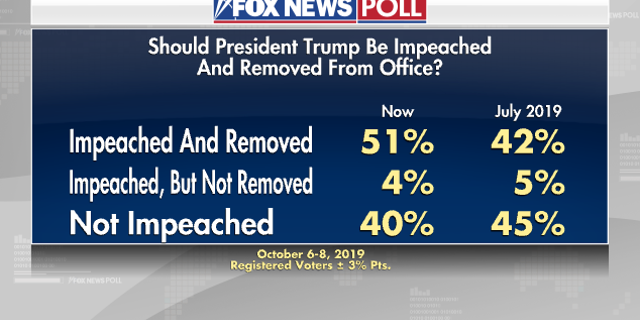 Fox News has changed in recent months and more and more it appears it has become another bastion of anti-President Donald Trump rhetoric.
Outside of its prime time lineup featuring Tucker Carlson, Sean Hannity and Laura Ingraham the anti-Trump bias has become more apparent.
In the most recent example, on Thursday, Fox News showed a poll that showed 51 percent of Americans, a majority, want President Trump removed from the presidency.
"Just over half of voters want President Trump impeached and removed from office, according to a Fox News Poll released Wednesday," it said.
"A new high of 51 percent wants Trump impeached and removed from office, another 4 percent want him impeached but not removed, and 40 percent oppose impeachment altogether.
"In July, 42 percent favored impeachment and removal, while 5 percent said impeach but don't remove him, and 45 percent opposed impeachment," it said.
The poll even showed a minor dip in approval among Republicans for the president, from 89 percent in September to 86 percent.
The news had liberals celebrating, what they believe, is the imminent end of the Trump presidency, while conservatives are likely to be furious with Fox News
51% of Americans back Trump's removal, with another 4% backing impeachment but not removal, according to a new Fox News poll. Alarming numbers for Trump, who is likely to denounce Fox. https://t.co/dLt0dntd2x

— Mark Jacob (@MarkJacob16) October 9, 2019
— Nirva mas (@mas_nirva) October 10, 2019
The newest Fox News Poll showing that 51% of Americans believe Trump should be "Impeached And Removed," up from 42% in July should be a wake up call to all the Republicans who thought the impeachment inquiry would backfire on Democrats. The evidence indicates quite the opposite. pic.twitter.com/upgIrbOBsd

— Eugene Gu, MD (@eugenegu) October 9, 2019
51% of Americans want Trump REMOVED FROM OFFICE. According to FOX NEWS.

We can blather all we want, but America just wants. Trump. out. https://t.co/uZDWeHywhS

— Virginia Heffernan (@page88) October 9, 2019
Fox News says 51% of Americans support impeachment. That's 51% of people FOX NEWS, his cheerleaders, polled.

For Context:

38% Supported Impeaching Nixon at this stage
29% Supported Impeaching Clinton at this stage

This statistic is bigger than you all realize.

— Some Kinda Incognitas (@Chicainognitas) October 10, 2019
— Tom Coates (@tomcoates) October 9, 2019
— Marco Barone (@ChefsnBalances) October 10, 2019
New #FoxNews Poll: 51% of Americans support impeachment. These are bad numbers. These are bad numbers in key demographics. On Fox.

Trump is going to be impeached. It's only a question of whether elected Republicans stand with the country or against it.https://t.co/nIJO6Y7BsO:

— Tony Stark 2020 💥⎊ (@1IronMan2020) October 10, 2019