Gaza: Muslims executed one of Hamas leading commanders for being gay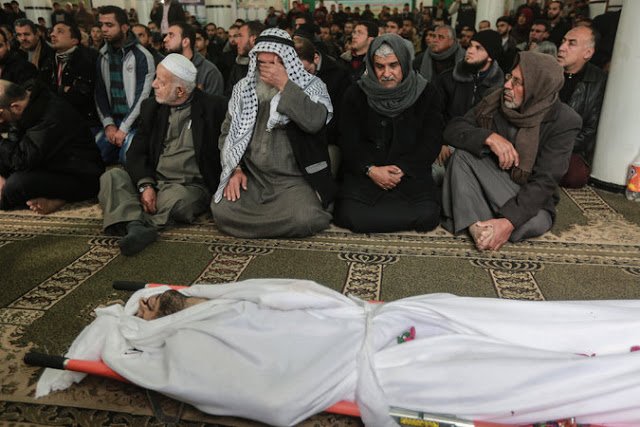 Hamas Executes Prominent terrorist After Accusations of being Gay.

Members of the Izz al-Din al-Qassam Brigades shot Mahmoud Ishtiwi, 34, three times in the chest after they had detained him for a year, The New York Times reported.

Not many people know this, but 90 percent of Palestinian Muslims support Sharia law.

The Palestinian terrorist organizations (the Palestinian Authority, Hamas, the Islamic Jihad) enforce strict Sharia law in the Palestinian territories, including the West Bank.

Shari'a laws are a set of laws that are based on the life of Prophet Muhammad.

Shari'a is not just a law but a way of life, ideology and political movement, according to the Sharia laws:
There is no freedom of religion or freedom of speech.
There is no equality between people (the non-Muslim is not equal to the Muslim).
There are no equal rights for men and women.
There is no democracy or a separation between religion and state politics.
Child marriage, forced marriage, Child brides, polygamy, FGM, Acid attacks, honor killings, beheading and stoning.
Sharia has no place in the civilized world.
— ester (@EsterP8) March 1, 2016
British Taxpayers Give $220 Million to Fund Islamic terrorism – in other words, the British Government steals $220000000 of taxpayers money to fund The Palestinian Authority which pays salaries to Muslim terrorists who carried out terrorist attacks "in the name of Allah".
The more people they killed the more money they get at the expense of the British taxpayers.
The Palestinian Authority is about to lose its terrorism financing from USA, Canada, UK and Australia.
Every year Billions of dollars of American, Canadian, British and Australian taxpayers' money go to the Palestinian Authority.
PALESTINIAN AUTHORITY PAID TERRORISTS NEARLY $350 MILLION IN 2017 , Worth 7% of its budget and an astonishing 50% of its foreign aid receipts.
The Palestinian Authority pays $580 per month to Muslim terrorists who are sentenced to three to five years in prison.
The Palestinian Authority pays terrorists who are sentenced to 20 years or more in prison 2835$ per month – in other words, those who committed more severe crimes and were involved in killing Christians or Jews get five times More money each month for the rest of their lives.
Western countries must stop funding the Palestinian Authority.
Liberals and leftists in the West use the made up term "Islamophobia" to portray anyone who criticizes Islam as a "racist".
Radical Muslim terrorists all over the world carry out terror attacks "in the name of Allah".