Tom Arnold Threatens Trump, 'They Showed Up For JFK Too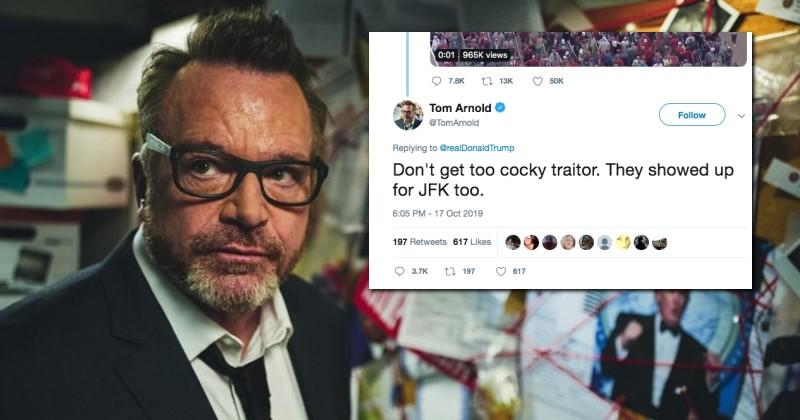 There is no doubt that Hollywood went out of its mind after the election of President Donald Trump, but some are worse than others.
There is Rosie O'Donnell, Alyssa Milano, Debra Messing, Robert DeNiro and a host of others, but one stands out from the others.
Only one has routinely threatened the life of the president, and he did it again on Thursday. That man is Tom Arnold.
Arnold, who is most known for being the ex-husband of Roseanne Barr, made a veiled threat against the president when President Trump showed his crowd for his rally in Dallas, Texas.
"Don't get too cocky traitor. They showed up for JFK too," the comedian and actor said in a tweet, and it did not take long for people to call on the Secret Service.
You stupid sick fuck

— Cameron Gray (@Cameron_Gray) October 18, 2019
sounds like a threat, creepy & evil

— whoevencares (@whoeven86845590) October 18, 2019
This sounds like a threat......

— SECRET SQUIRREL (@SecritSqrl) October 18, 2019
October 18, 2019
Holy crap, you need help. Find a hobby or something. You're seriously, seriously unwell. It's going to be a long five years for you.

— Michael (@RollCall79) October 18, 2019
— Canjorgie (@candyjorgenson1) October 18, 2019
October 18, 2019
— jimmy (@jimmy1_1_) October 18, 2019
Hey

@TomArnold

, maybe you'd like to share with

@SecretService

with what exactly you are inferring? I believe you've already been acquainted.

— Michael Davis (@Vegastechhead) October 18, 2019
— Carmine Sabia (@CarmineSabia) October 18, 2019
October 18, 2019
I dont even need to view how many replies to know this got ratio'd

— Saladino for Congress (@JoeySalads) October 18, 2019