Maxine Waters: Dr. Carson is "Not Intelligent Enough" to be HUD Secretary
In a recent back-patting ceremony at MSNBC, the second home of Maxine Waters, she and Joy Reid of the AM Joy show, launched into an all-out attack on Ben Carson when he said to the career Congresswoman that she lacked "basic manners" in her letter to President Trump about California's homeless.
On the show, Waters, who has had an ongoing feud with the Secretary of Housing and Urban Development, fired off that the former brain surgeon did not possess "the intelligence to do the job" of Housing Secretary. Waters boasted that she trashed Carson in front of her staff with, "I basically said to my staff, I really don't have time to be bonded by somebody who does not know the difference between REO and OREO."
The comments surrounded a response he had made at a Congressional committee hearing on the work of the Department of Housing where he mis-heard one of the members when asked by California Democratic Representative Katie Porter, "I'd also like you to get back to me if you don't mind to explain the disparity in REO rates." Carson responded, "An Oreo?
Maxine Waters has never been on the cutting edge of intellectual pursuits, but there's a reason. When you're making the amount of money that she and her husband are making, there's really no point to broadening your horizons or chasing the dream of wisdom and civil service over the green stuff…at least in the Congresswoman's case.
Waters has recently been on a rampage over the fact that Ben Carson, the Secretary of Housing and Urban Development in the Trump administration, has been largely successful in his quest to create a better environment for those less fortunate in our society. His push for job opportunity centers in areas of dense inner-city populous have been popular and have been a big part of the overall great unemployment numbers in the US over the last couple of years.
Normally, one would believe that the Democrats (who used to champion these exact same causes) would be ecstatic with these results. Instead, it almost appears as if they are angry that the Republican administration has been at the helm of these endeavors and policies.
Yesterday, in an interview with far-Left MSNBC's Joy Reid, Waters questioned not only Carson's reprimand of her in her rude dealings with the White House, but incredibly, questioned the former brain surgeon's intellect!
Breitbart:
On Sunday's broadcast of MSNBC's "AM Joy," Rep. Maxine Waters (D-CA) said former neurosurgeon Ben Carson did not have the "intelligence" for his current position as Secretary of Housing and Urban Development.

Carson had said Waters lacks basic manners after she had written President Donald Trump a letter demanding answers on reports that the administration was considering moving homeless people off the streets in California.
Of the two individuals involved in this on-again, off-again feud, anyone with half a mind for spotting intellect would bet that Ben Carson would win hands-down in a game of wits against the career Congresswoman from California, Maxine Waters. If there's any doubt, just take a quick look at the rundown of their careers in their respective fields.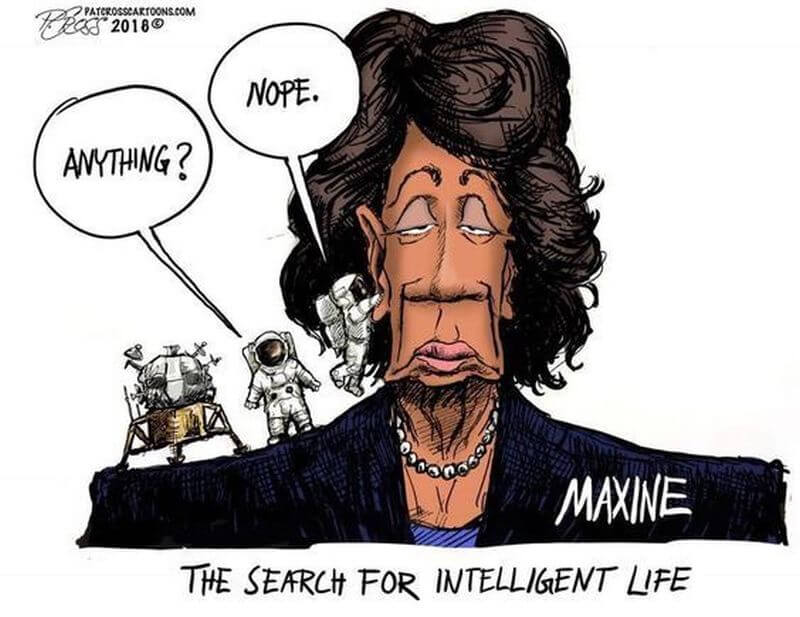 Carson was the Director of Pediatric Neurosurgery at Johns Hopkins Hospital in Maryland for nearly 30 years. As a pioneer in neurosurgery, Carson's achievements include performing the only successful separation of conjoined twins joined at the back of the head, the first successful neurosurgical procedure on a fetus inside the womb, the first completely successful separation of type-2 vertical craniopagus twins, developing new methods to treat brain-stem tumors, and revitalizing hemispherectomy techniques for controlling seizures. He became the youngest chief of pediatric neurosurgery in the country at age 33 and has received more than 60 honorary doctorate degrees, dozens of national merit citations, and written over 100 neurosurgical publications. In 2001, he was named by CNN and TIME magazine as one of the nation's 20 foremost physicians and scientists and was selected by the Library of Congress as one of 89 "Living Legends" on its 200th anniversary. In 2008, he was bestowed the Presidential Medal of Freedom, the highest civilian award in the United States.
Waters is currently in her 15th term in the House, having served since 1991. She's been investigated by US government for corruption related to her husband's banking connections, illegal campaign funding, close relationship with Nation of Islam's Louis Farrakhan, as well as charges of anti-Semitism. She is the Chairwoman of the Financial Services Committee. She has been shouting the word "impeachment" since before the inauguration of President Trump.
There is no starker difference between individuals than that which you see above this line: Brilliant ground-breaking medical genius versus corrupted career politician.
And who is it that doesn't have the intellect to do the job?