Bernie Sanders Supporters Celebrate New Hampshire Win: 'We Are Unstoppable!'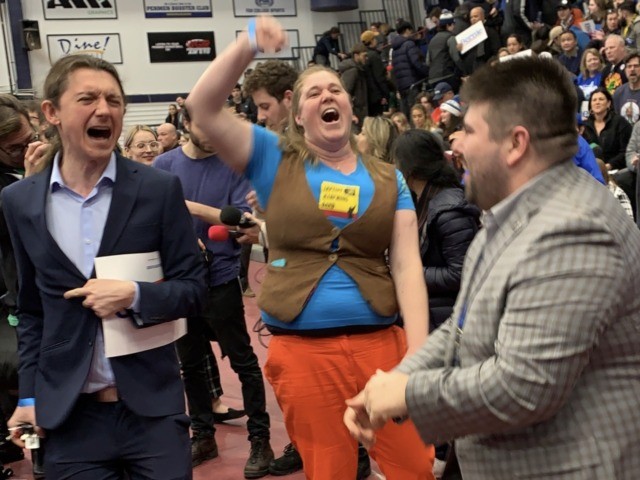 MANCHESTER, New Hampshire — Supporters of Sen. Bernie Sanders (I-VT) celebrated his narrow victory in the New Hampshire primary on Tuesday evening, confident that he can win the Democratic Party's presidential nomination.
"We! Are! Unstoppable! Another world is possible!" supporters chanted and sang on the floor of the Southern New Hampshire University Field House.
The Sanders campaign began the day with great expectations, after a week in which he became the national frontrunner in several new polls.
The mood at the victory rally became more tense, however, as Sanders's lead over former South Bend, Indiana, Mayor Pete Buttigieg narrowed from the high single digits to within less than two percent.
Before the final result was announced, Decision Desk HQ
projected
that the race would be a tie, regardless, in delegate terms, with Sanders and Buttigieg each taking nine delegates, and Sen. Amy Klobuchar (D-MN) taking six.
Later, Sanders addressed a crowd of about 1,200 supporters as the networks began calling the race for him. Sanders
finished
with roughly 26% of the vote; Buttigieg had over 24%; and Sen. Amy Klobuchar had roughly 20%.
Sanders declared that he had won Iowa as well as New Hampshire, drawing cheers from a crowd still
upset
that Pete Buttigieg declared victory in the Iowa caucuses even though Sanders won the popular vote. (Buttigieg still narrowly
leads
the race for delegates to the Democratic National Convention.)
Sanders ran through a series of key campaign policies, including "Medicare for All" and a promise to cancel all student debt. And the crowd chanted "Green New Deal!" after he mentioned his plan for climate change.
He concluded: "Together, I have no doubt that we will beat Donald Trump."