Roger Stone Prosecutor Resigns 'Immediately' After DOJ Rejects Absurd Sentencing Proposal. "Gotta read the footnotes..."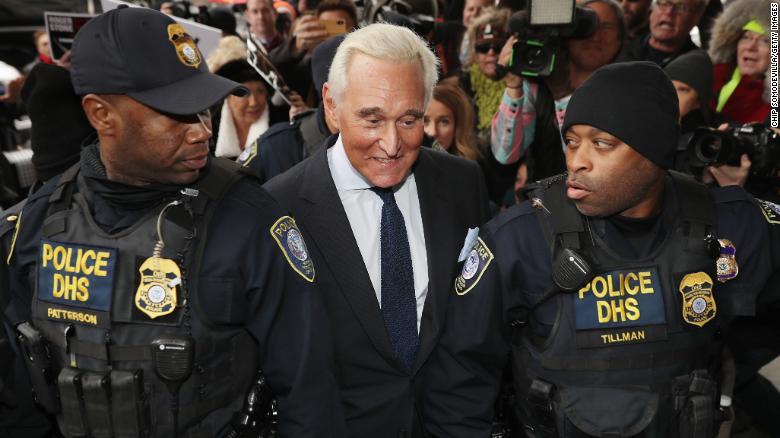 Update (1745ET): A fourth career prosecutor working the Roger Stone case has resigned, after Michael Marando notified the court of his withdrawal. He joins Aaron Zelinsky, Jonathan Kravis and Adam Jed - who reportedly bullied federal prosectuor Timothy Shea into recommending a heavy-handed sentence to the long-time Trump associate.
The new memo argues "the witness Stone was convicted of attempting to intimidate, Randy Credico, claims that he "did not perceive a genuine threat,"" according to the report.
Following the Stone chaos, Senate Minority Leader Chuck Schumer (D-NY) demanded that the DOJ Inspector General investigate the matter, saying "This situation has all the indicia of improper political interference in a criminal prosecution."
Stone was found guilty in November on seven counts related to attempts to learn more about when WikiLeaks would publish emails which were harmful to Hillary Clinton's bid for the White House in 2016.
* * *
Update (1605ET): Just a few short hours after Aaron Zelinsky resigned, Roger Stone's other prosecutor Jonathan Kravis has also just resigned as Assistant US Attorney.
Jonathan Kravis "has resigned as an Assistant United States Attorney and therefore no longer represents the government in this case."
Kravis, a former clerk to Justice Stephen Breyer and Judge Merrick Garland on the US Court of Appeals, served as an associate White House counsel for the Obama administration from 2009 to 2010.
* * *
The prosecutor who recommended that Trump confidant Roger Stone receive up to nine years in prison has resigned, effective immediately - after reports have emerged that his office misled the DOJ over the proposal, which reportedly 'shocked' DOJ officials enough that they will re-file it.
Prosecutor Aaron Zelinsky gave no details in a Tuesday letter submitted in Stone's case, however a footnote reads that it was "effective immediately."
Earlier Tuesday,
AP reported
that
the Justice Department would "take the extraordinary step of lowering the recommended prison time for Roger Stone
, an ally of President Donald Trump, a federal official said Tuesday."
Beg your pardon?
Hours later,
The Federalist
's Sean Davis reported that
federal prosecutors were reportedly blindsided
by the recommendation, which a
Fox News
source said the DOJ felt was "extreme, excessive, and grossly disproportionate" to Stone's crimes.
"The Department was shocked to see the sentencing recommendation in the filing in the Stone case last night," the DOJ official reportedly told

Fox

. "The sentencing recommendation was not what had been briefed to the Department."

The report from Fox News suggested that DOJ was in the process of rescinding the rogue prosecutors' recommendation. -

The Federalist
What's more, "Sources told The Federalist that Timothy Shea, who was recently appointed to take over as the top federal prosecutor in D.C. earlier this month, was bullied into agreeing to the sentence recommendation by Adam Jed and Aaron Zelinsky, who were originally tapped by Mueller to investigate whether Donald Trump treasonously colluded with the Russian government to steal the 2016 election from Hillary Clinton."
In a Monday evening sentencing memorandum, prosecutors asked for Stone to serve between 87 and 108 months in federal prison, which they argued was within federal guidelines. They argued in court filings that "Stone's actions were not a one-off mistake in judgement," and that he "decided to double – and triple – down on his criminal conduct by tampering with a witness for months in order to make sure his obstruction would be successful."
Prosecutors charged that Stone lied to Congress about his conversations about WikiLeaks with New York radio host Randy Credico — who had scored an interview with WikiLeaks founder Julian Assange in 2016 — and conservative writer and conspiracy theorist Jerome Corsi.

During the 2016 campaign, Stone mentioned in interviews and public appearances that he was in contact with Assange through a trusted intermediary and hinted at inside knowledge of WikiLeaks' plans. But he started pressing Credico to broker a contact, and Credico testified that he told Stone to work through his own intermediary. -AP
News of the reversal has absolutely triggered the left, with former DOJ counterintelligence chief David Laufman calling it a "break-glass-in-case-of-fire moment."
As AP notes, federal prosecutors also recently softened their sentencing position on former National Security Adviser Michael Flynn, saying "they would not oppose a probation of punishment after initially saying that he deserved up to six months in prison for lying to the FBI. The Flynn prosecution is also being handled by the U.S. Attorney's office in Washington."