2 US service members killed fighting ISIS in Iraq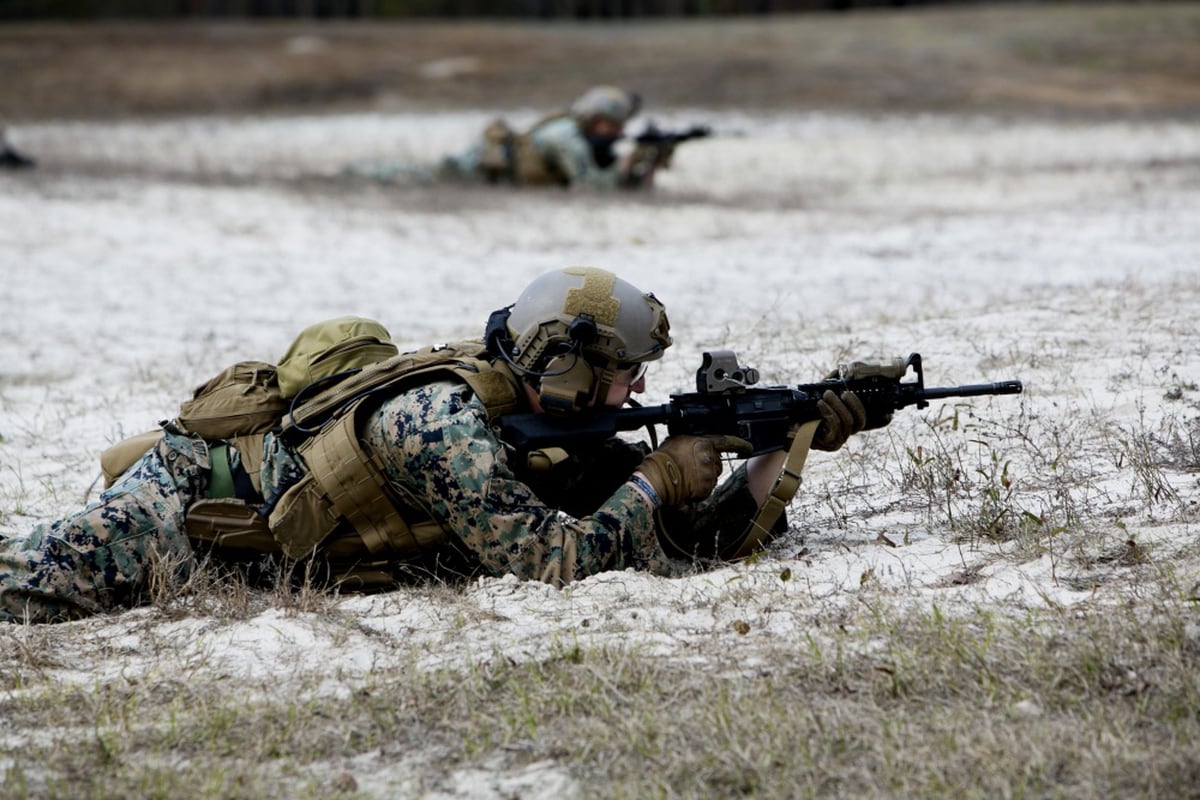 Two U.S. service members
were killed in Iraq
Sunday while advising Iraqi Security Forces on a mission against ISIS, U.S. officials confirmed Monday.
The U.S. and Iraqi forces were on a "mission to eliminate an ISIS terrorist stronghold in a mountainous area of north central Iraq," said a statement from Combined Joint Task Force – Operation Inherent Resolve.


"On the evening of March 8, the U.S.-led Coalition launched additional forces to recover two U.S. service members from the southern Makhmur Mountains in Iraq, approximately 60 km south of Erbil," Col. Myles B. Caggins III, coalition military spokesman, told Marine Corps Times Monday.


It took coalition forces six hours to recover the killed Marines, Caggins said.


A source familiar with the operation told Marine Corps Times on background that the Americans were Marine Raiders partnering with Iraqi special forces in a large operation against ISIS.


The names of those killed are being withheld until next-of-kin can be notified.


Throughout the past two weeks, official Iraqi government Twitter accounts have been posting about fights in the Hamrin and Makhoul mountain ranges in northern Iraq.


Early Monday morning the Iraq media security cell tweeted about a clash between Iraqi special operations anti-terror forces and terrorists that killed several terrorists in tunnels discovered in the Makhoul mountains.


"The purpose of the mission was to eliminate ISIS safe-havens in a cave complex in the Makhmur Mountains," Caggins said.


"The Makhmur Mountains are historically known to be an ISIS safe haven. However, there is no safe place for ISIS to hide," he added.


The military currently estimates that between 17–19 ISIS fighters were killed in the attack.
The two service members killed are the first combat deaths as part of Operation Inherent Resolve since Marine Raider, Gunnery Sgt. Scott A. Koppenhafer, 35, of Mancos, Colorado, was killed in August 2019.


Koppenhafer died in Ninewah province, Iraq, while advising Iraqi forces in its fight against the Islamic State, Marine Corps Times previously reported.


Inherent Resolve is a multinational operation tasked with defeating ISIS in Iraq in Syria.
Since the operation began in 2014, 17 U.S. service members have been killed in action, according to the Defense Casualty Analysis System.


The two new deaths bring the total to 19 troops killed.


"The Coalition, alongside our partner forces, will continue to hunt the remnants of the illegitimate caliphate in order to disrupt any effort to resurge," Caggins said.
_______________________________
Second Article For You
______________________
Makes Sense – DNC Control Agents Created Biden Coalition With Promises of Administration Positions…
An interesting
Axios article
starts to explain how Joe Biden was able to catapult from a stammering, incoherent message candidate into the position of unified front-runner. Amid earlier reporting on Team Obama dispatching phone calls ahead of the Super Tuesday vote, things do certainly make sense.
While the
Axios report
is a general citation of people "in and around the Biden camp", an extension of Team Obama, the explanation of promising key positions to influence people to get in line does make sense.
According to the inside talk, Elizabeth Warren would be handed Treasury Secretary; Pete Buttigieg a U.N. ambassador position; Kamala Harris as a likely Attorney General (or deputy); Mike Bloomberg to head the World Bank; etc.
Additionally the Vice-Presidential nominee, likely a black female, would be selected by South Carolina black-caucus leader Jim Clyburn who was the critical component of Biden's resurgence.
Indeed this approach of putting the gang back together, with former President Barack Obama taking control over The Club network and playing the role of puppeteer, does make sense as to how everyone was so quickly brought to heel. It would also explain who would ultimately be running a Biden administration, and that would not be Joe Biden.
Biden: 'I Am The Only Candidate Who Can Beat Ronald Reagan'.
HOUSTON, TX—Fresh off his afternoon nap, presidential candidate Joe Biden gave a fiery, high-energy speech in Houston today, claiming to be the only candidate who could beat incumbent Ronald Reagan.
"I am the only candidate who can unite the party to defeat Reagan," he said to scattered applause. "When Super Thursday hits here in a few weeks, we can rally the 150 million Democrats here in the great country of Texas to vote for me so we can get Reagan and his crony Dick Cheney off the Iron Throne there in the Imperial Senate. Go Hoosiers!"
Aides scrambled to turn off Biden's mic but he beat them away with his walker.
"The time has come for the reign of Tippecanoe and Tyler too to end!" he shouted, though by this point he had wandered into a nearby field and no one could hear him.